Introduction
The present MOOC responds to a recommendation by the Council of the European Union, which encourages highlighting the significant role of education as a tool for achieving a green and sustainable transition. Furthermore, the MOOC proposes a landscape-oriented education, both for outstanding landscapes and those that are ordinary and degraded. This approach is innovative as it underscores the undeniable connection between landscape and quality of life and emphasizes how institutions should incorporate landscape considerations into their policies.
Citizens have rights and responsibilities concerning the landscape, which is the result of both physical and cultural factors. Therefore, it becomes of vital importance to take actions aimed at the identification, assessment, protection, management, and planning of the landscape, ultimately resulting in genuine citizen participation.
Therefore, this MOOC is oriented to "(…) highlight the key role of schools, higher education and other education and training institutions in engaging with learners, parents, educators and the wider community on the changes needed for a successful, just and inclusive green transition. In its conclusions on 'Biodiversity – the need for urgent action', the Council stressed that investing in education, among other areas, is key in gathering the best data and finding the best solutions in this regard. The EU Youth Strategy identifies a sustainable green Europe as a goal and calls for all young people to be environmentally active and educated" (Council Recommendation of the European Union,2022)
POK and MOOC
The Polimi Open Knowledge (POK) platform is designated as the host website for the Edulands MOOC. The Edulands MOOC is structured to encompass various sections, including a course description, target audience, intended learning outcomes, a weekly learning schedule, a series of activities, and a final assessment component. Throughout these different segments, the overarching theme of "transition" serves as the common thread.
In this context, "transition" is defined as the educational focal point of the MOOC, with a specific emphasis on green transition and sustainable development. The program is designed to foster an understanding of the interconnected global challenges facing society, such as the climate crisis, environmental degradation, and biodiversity loss, among many others. These challenges are recognized for their multifaceted impact on environmental, social, economic, and cultural dimensions, as highlighted by the Council of the European Union.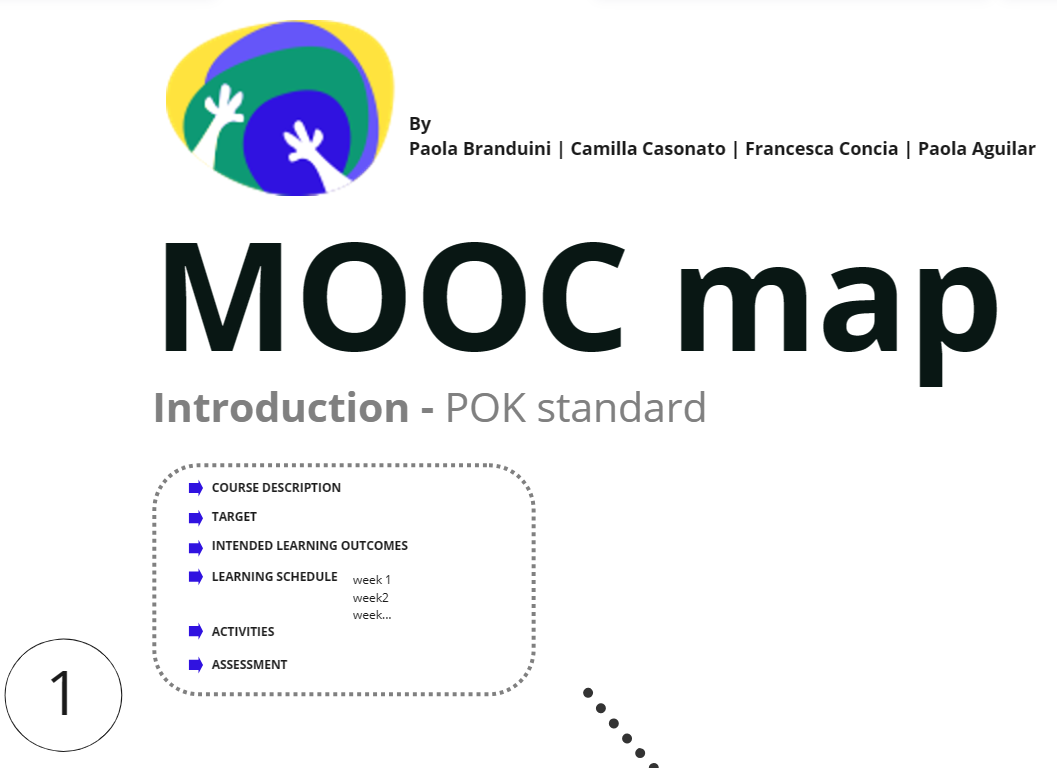 Food for Thoughts
In the case of "Food for Thoughts," it is important to note that, in addition to the concept of transition, the themes of cultural heritage, sustainability, and landscape will revolve around the subject of education. There exists a European route marked by various documents: ELC 2000 concerning landscape and people, FARO 2005 emphasizing heritage as a right, CH ed REC 05/9 addressing heritage and education, GREEN ed REC 2022 related to green education for Europe, U.N. AGENDA 2030 and its goals for sustainable development, as well as the UNESCO GREEN ed ROADMAP education-first approach. This path leads to a Global Strategy, which will feed into the following sections: "Views on Landscape – Transition" and "Education and Good Practices + Tools."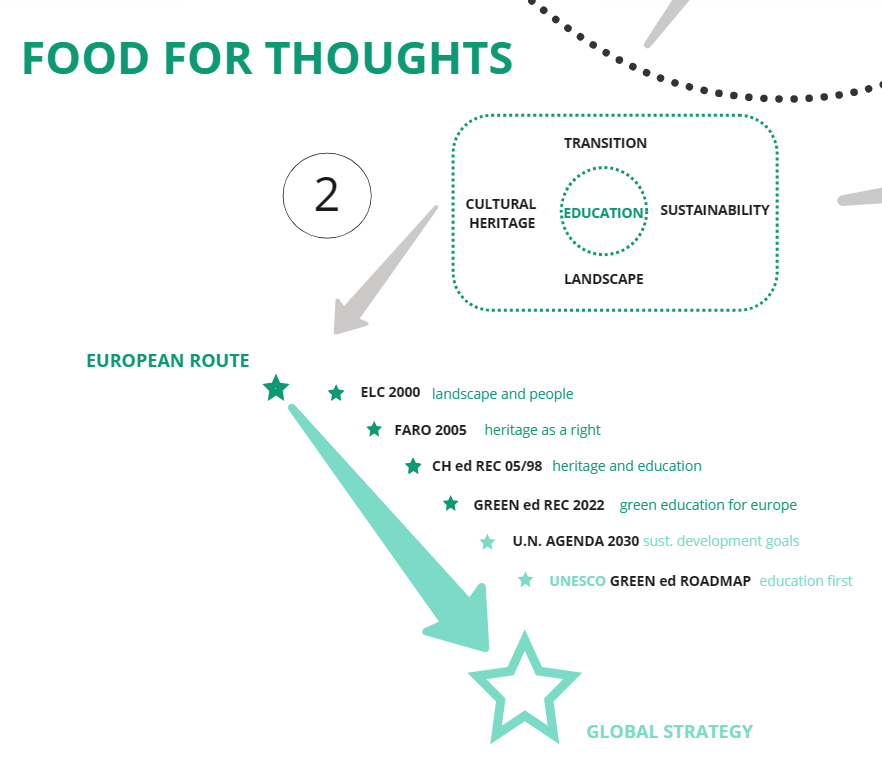 Views on Landscape – Transition and Education
This section will feature a series of expert testimonies regarding their experiences in landscape education to achieve the desired transition towards a world more conscious of the challenges and potential opportunities to address them. Education can create a culture of transition, encompassing not only ecological but also cultural changes. Educating from a landscape perspective allows the development of essential competencies to navigate the transition.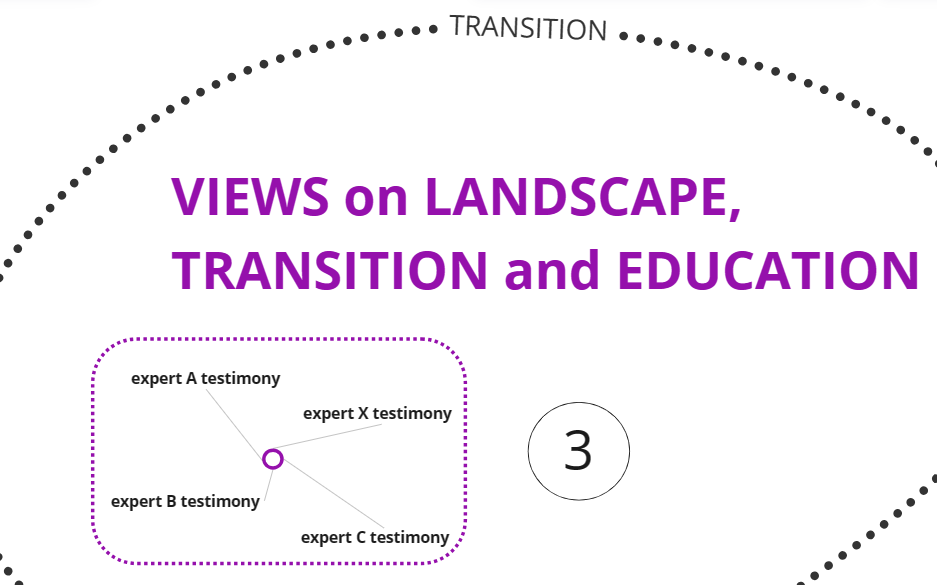 Good Practices + Tools
Within this section, a set of didactic pathways will be provided, both from schools and participating experts. Didactic pathways are organized sequences of actions intended for a specific target audience with precise goals.
These pathways correspond to the projects proposed by teachers and experts. From these didactic pathways, Mini Actions can be identified. Mini Actions may even be shared as common practices among two or more participants and can be artistic/creative, simulation/game-based, mapping, transformative, and more, as well as replicable. Defining Mini Actions from experience to a toolbox will result in a series of Mini Tools. These Mini Tools will include the aim, participants, duration, location, required materials, instructions, expected learning outcomes, the final outcome, and evaluation criteria.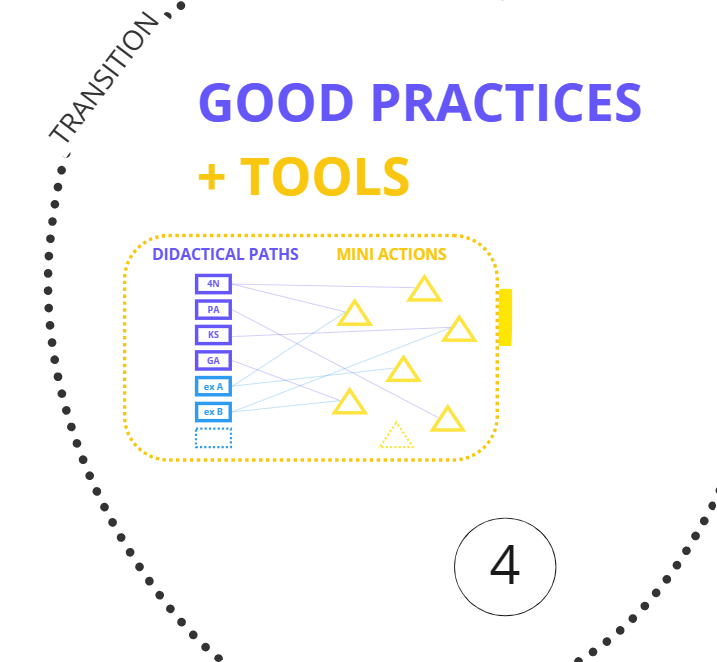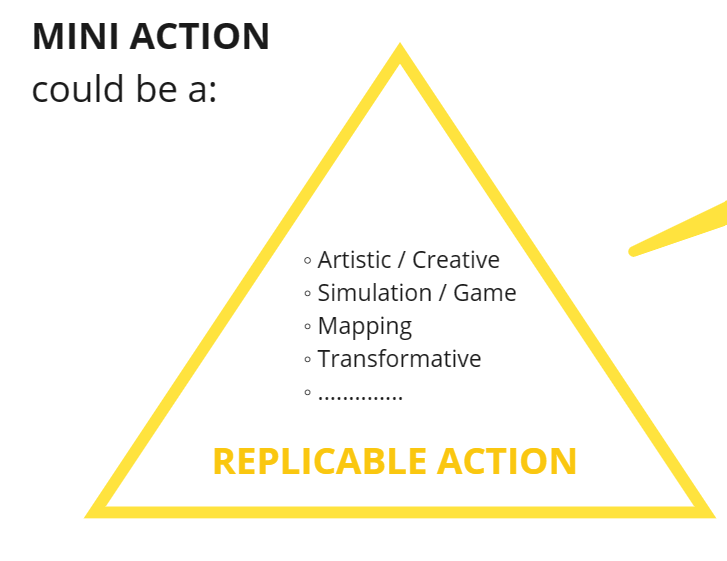 These replicable actions can be utilized by other schools and in different contexts, such as "role-playing games", "inner landscapes", "visual dictionaries", "sensory mapping", "solar cooking", "food and colors", among others. In this way, these actions become tangible and transferable products capable of conveying the knowledge, skills, and attitudes necessary to educate towards a landscape of sustainable transition.
Design your Educational Path
Considering the previous sections described, the MOOC users have the flexibility to design their own educational path, by choosing the topics that align with their individual interests. This approach empowers them to fully utilize the provided information in accordance with their specific needs within this educational process aimed at transition.